It's safe to say that nearly everyone loves nature—right up to the point where they need to sleep outside in it. For most taking a hike in the woods is one thing, while pitching a tent and building a fire is another entirely. There's no need to fear camping if you're prepared, however. For National Camping Week we want to help you change your view on camping. Getting the right supplies and preparing for surprises can turn your camping experience into a relaxing connection with nature and unlock a new love for the environment around you.
Note: These gear recommendations and tips are centered around "car camping," or camping at designated campsites, rather than backpack camping where you're hiking and setting up camps along the way. If you're looking for tips on more rustic camping like that, we suggest checking out brands like REI that have great camping guides.
Camping Gear Essentials
Before you head to the great outdoors, make sure you're prepared. Nothing's worse than getting to the campsite and realizing you forgot a place to sit or sleep. This is a list of bare essentials you'll need, but not exhaustive list. If you know you won't need some items, feel free to ignore. Also, much of this equipment (especially expensive pieces like tent and sleeping bag) can be rented from an outdoor store so you don't have to invest too much money right away if you want to test your love of camping first.
Tent
Arguably the most important part of your camping collection, you want a tent that keeps you protected from the elements and is big enough for you and your crew to sleep comfortably. If you've got a larger budget, opt for a slightly larger tent for some extra breathing room. You may also want to check the height of the tent if you want room to stand-up for more movement. There are myriad options for number of doors, vents, storage room, etc. so do a little research for your ideal choice. Also, as a tip, practice setting up your tent at home first, so you don't waste time and energy getting frustrated at the camp site.
Sleeping Bag & Pad
Your sleeping bag can be the difference between a good night's sleep or a nightmare of sweat or chills. Check the weather around your trip and grab a sleeping bag with the right temperature rating. For most trips, a summer-style bag should do the trick. However, if it's fall or early spring and the weather fluctuates, then look to 3-season bags to keep you comfortable. You'll also want to grab a sleeping pad to put under your bag for some extra cushion. Forgo large air mattresses, and instead look for pads of thicker foam with a little insulation. They're easier to pack, and you won't have to worry about the hassle of inflating them.
Camping stove
If you are already comfortable building a fire and using it to cook and make morning coffee, then you won't need to worry about a camping stove. But for the rest of us, having these easy to use stoves are a life saver—especially when you're blurry-eyed in the morning and just need that first hot cup of coffee. A standard two burner stove is great to cook breakfast and heat coffee at the same time. Grab a couple canisters of fuel and a long stove lighter, and you'll start your day on the right foot—preferably one filled with coffee.
Lanterns & Headlamps
Since most camp sites don't include mood lighting and campfires only illuminate so far, you'll want to bring along your own lighting. Grabbing a lantern or two for ambient light around the campsite or in your tent is a great idea. Same can be said for a small headlamp. Headlamps are great for keeping your hands free for setting up food or supplies, or late-night trips to the bathroom.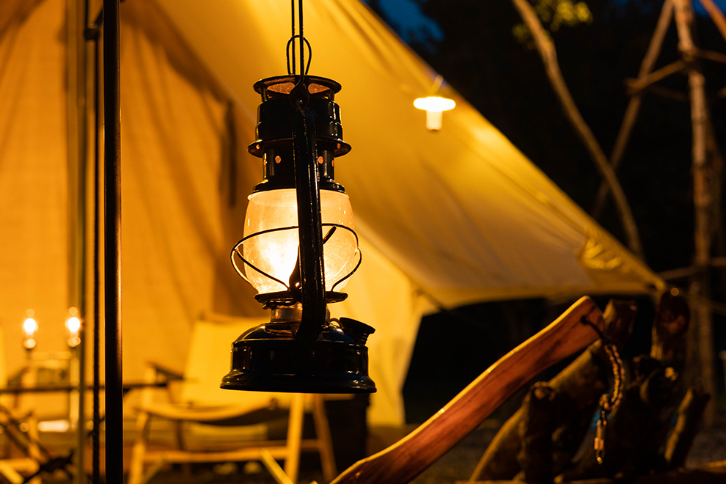 Cooler
You probably already have one of these at home, but don't forget it! The cooler along with your tent are key pieces of any camping trip. Make sure you have one big enough for all your perishable food, water, drinks, and ice. Also, make sure you read any relevant regulations around bears or other critters so you don't wake up to an empty cooler and new hairy campers.
Utensils
If you're prepping and cooking food on site, you'll need some utensils to help. Feel free to bring whatever you might need from home, and don't forget things like cups or mugs for drinks. Packing an extra bag or plastic bin for dirty items is a smart tip, as well. That way you can keep dirty things separate and away from late night animal visitors.
Camp Chairs
Not every camp site will have picnic tables, rocks, or stumps to sit on, so make sure you have some foldable camp chairs for extra comfort. You may think you won't need them and can sit on the ground but trust us: it's only fine for so long before you get a numb butt and sore back.
Toiletries
Depending on how long you plan on camping, you may want to bring some soap, shampoo, and other toiletries. At the bare minimum you'll want to bring a toothbrush and toothpaste. You'll also want to bring sunscreen and bug spray to keep you protected from sunburn (the worst when you're camping) and bugs (the worst in general). And don't forget a first-aid kit and maybe extra toilet paper just in case.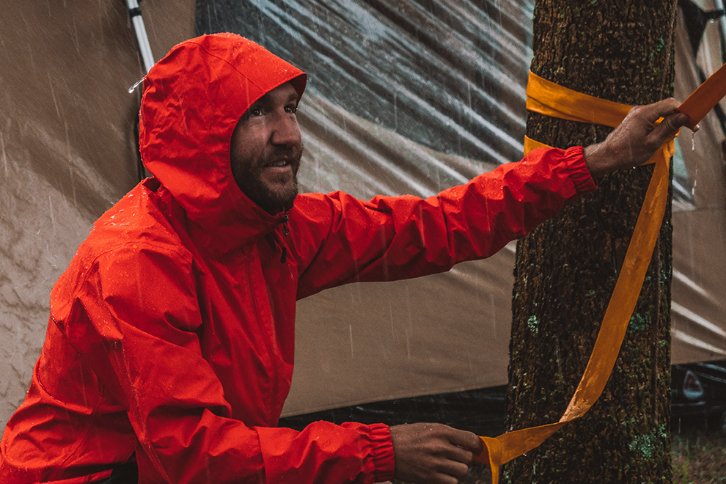 We hope these tips have inspired you to unplug, escape the city, and plan your own camping adventure this summer. Camping is a wonderful way to commune with and appreciate nature, and it can even help lower stress levels—if you're properly prepared, that is. Don't forget to stop by your favorite convenience store for a few cans of General before you go. And remember: what you bring in is what you bring out. Clean up after yourself, leave no trace (easy to do with our disposable lid), and respect nature!