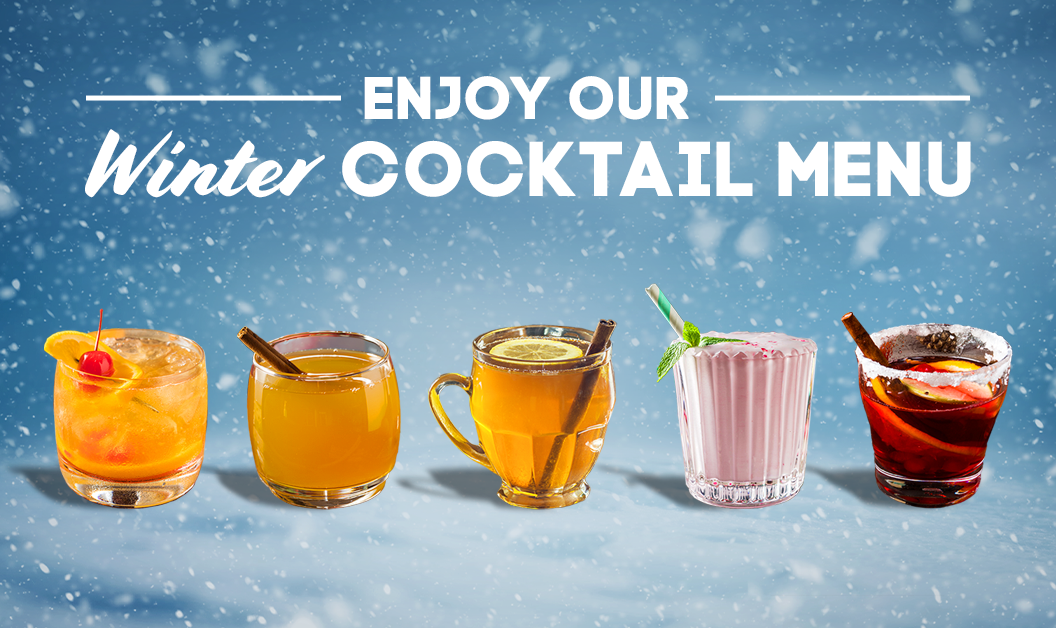 Nothing beats a crackling fire and a comfy sweater to keep you warm—unless perhaps it comes in liquid form. Winter brings frigid weather, holidays, mandatory office parties and lots of family time…many of which are best faced with a tasty drink at hand.
That's why we've assembled our tastiest new winter cocktails to help you stay festive, stay warm and stay relaxed this winter. They're guaranteed to keep you toasty, one way or another.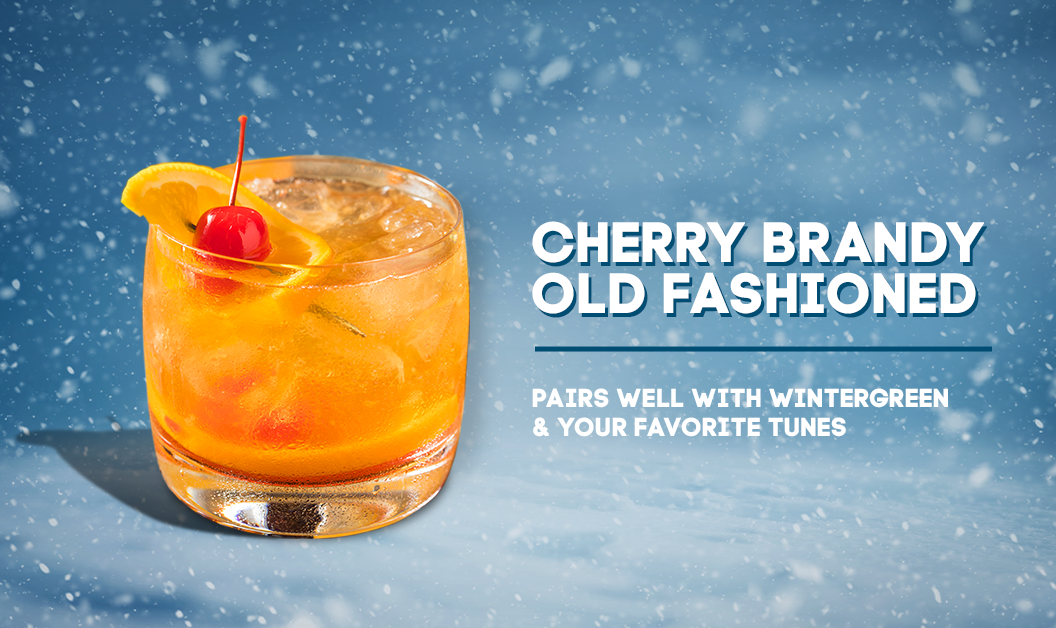 CHERRY BRANDY OLD FASHIONED
Try adding fruit and spice to the classic old fashioned for some extra seasonal cheer.
Ingredients:
1-1/2 ounces brandy
1/3 cup ginger ale, chilled
8 Maraschino cherries
1 teaspoon bitters (orange or angostura)
1/2 teaspoon chopped crystallized ginger
1/3 cup ice cubes
1/2 ounce Maraschino cherry juice
(optional) Maraschino cherry with stem
Directions:
In a rocks glass, muddle the cherries, bitters and ginger.
Add ice.
Pour in the ginger ale, brandy and cherry juice.
Garnish with a cherry if desired.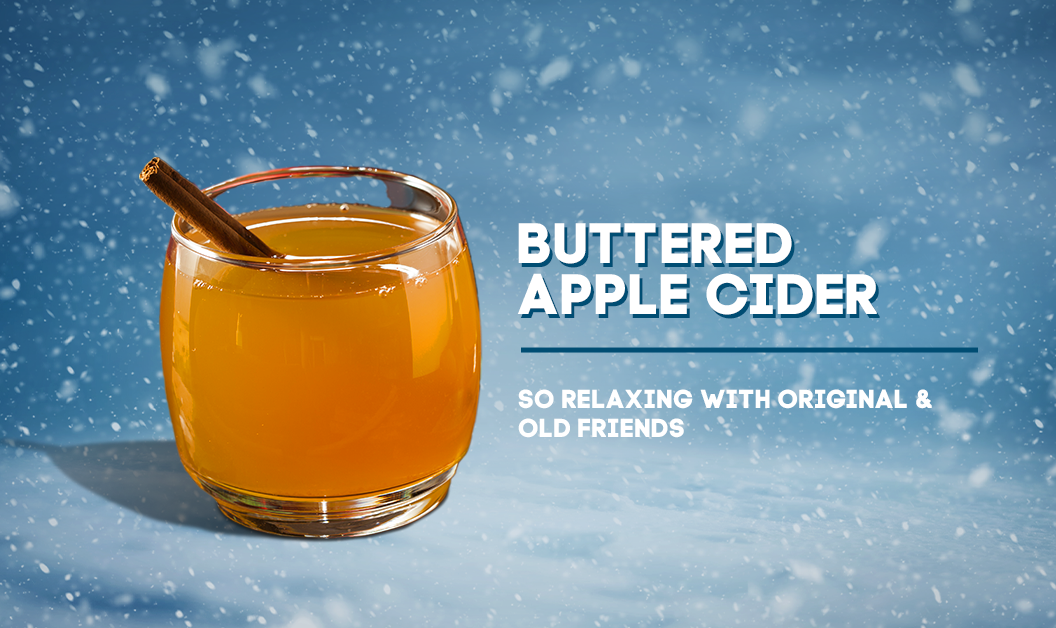 BUTTERED APPLE CIDER
Top slow-cooked cider with bourbon and a pat of spiced butter to warm you quite nicely on even the coldest winter day.
Ingredients:
1 16-ounce bottle of apple cider
½ cup pure maple syrup
½ cup butter, softened
½ teaspoon ground nutmeg
½ teaspoon ground allspice
Directions:
In slow cooker over low heat, cook apple cider with maple syrup for 20 minutes or until steaming hot.
In a small bowl, combine butter, nutmeg and allspice. Mix well.
Pour cider into mugs and top with a teaspoon of spice butter.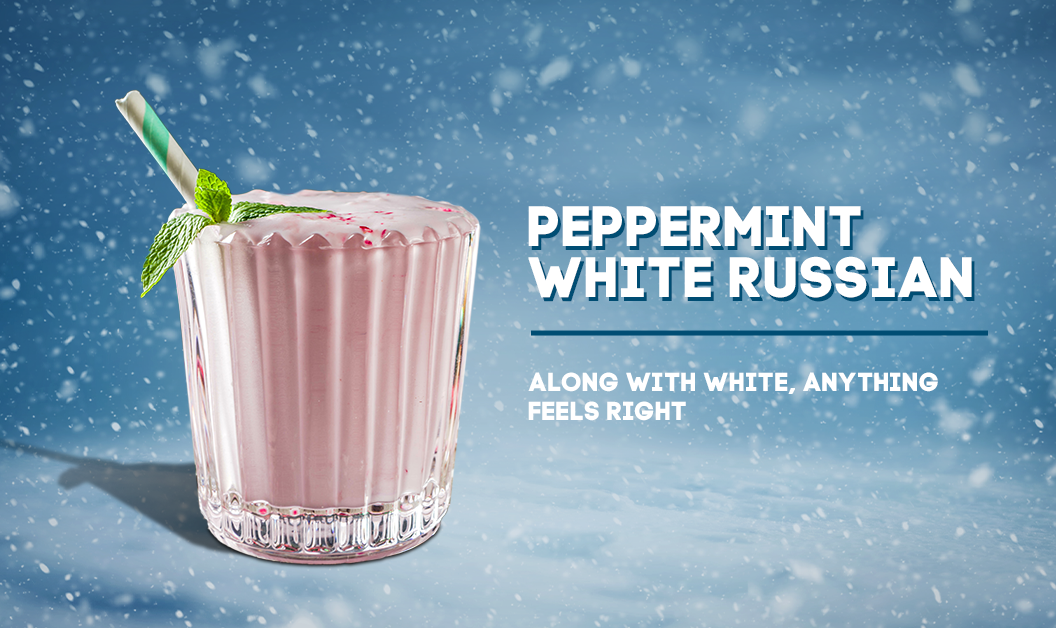 PEPPERMINT WHITE RUSSIAN
Add peppermint to the traditional White Russian for a stunning seasonal cocktail that's sweet, creamy and truly abides.
Ingredients:
1 ounce peppermint vodka
1 ounce Kahlua
2 ounces half & half
1 peppermint stick
Directions:
Fill a rocks glass with ice.
Stir in peppermint vodka and Kahlua.
Top with cream and stir.
Add a peppermint stick and enjoy!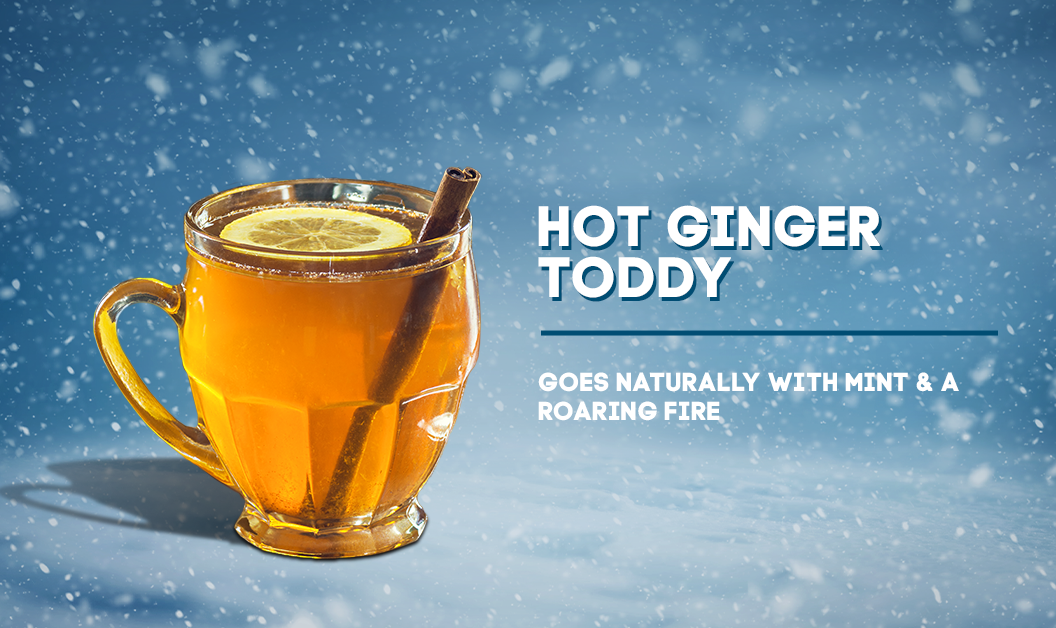 HOT GINGER TODDY
Honey, ginger syrup and lemon juice are the special twist to help make this a warm and truly memorable season.
Ingredients:
4-6 ounces top-shelf bourbon
2 ounces honey
1 ounce ginger syrup (recipe follows)
1 ounce freshly squeezed lemon juice
Ingredients (Ginger Syrup):
1 lemon
2 cups coarsely chopped fresh ginger with peel, about 8 ounces
1 cup sugar
Directions (Ginger Syrup):
Remove peel from lemon with a vegetable peeler.
Finely chop ginger and lemon peel in food processor.
Transfer lemon-ginger mix to a saucepan, add sugar, 2 cups of water and bring to a boil.
Reduce heat and simmer for 15 minutes. Strain mixture and cool.
Directions (Hot Ginger Toddy):
Heat bourbon, honey, ginger syrup, and lemon juice in a small saucepan until honey dissolves and liquid is hot, but not boiling.
Pour into a large snifter or mug.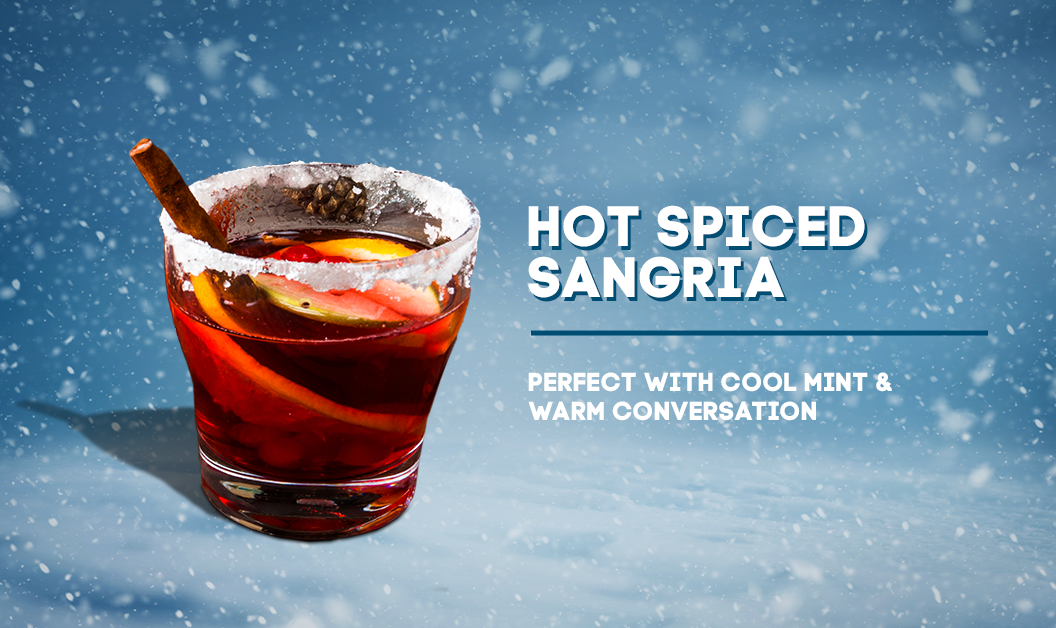 HOT SPICED SANGRIA
Warm your favorite wine in a slow cooker with frozen fruit for a fantastic wintry take on a hot-weather standard.
Ingredients:
2 bottles Spanish red wine
1 cup brandy
1 bag frozen cherries
1 bag frozen peaches
1 orange, sliced
2 cinnamon sticks
1 cup simple syrup (see recipe below)
Orange peel, for garnish
Ingredients (Simple Syrup):
1 cup sugar
1 cup water
1 orange, zested
Directions (Simple Syrup):
Combine the sugar, water and zest in a saucepan.
Bring to a boil, reduce to a simmer.
Stirring occasionally, simmer for 5 minutes or until sugar is dissolved.
Directions (Hot Spiced Sangria):
Combine all ingredients in a slow cooker.
Put setting on HIGH for 1 hour.
Reduce to warm to hold temperature.
Ladle drink and fruit into glasses.
Garnish with orange peel.
We hope our delicious cocktails help make your winter warm and cheery. They're perfect for any holiday or winter occasion. Just lift a cup if you want to lift your spirits!
Cheers!